If I were running for President, that would be my campaign slogan. True story!
When I found this recipe from Cookies & Cups, I almost lost it! I love cookies and I have a love/hate relationship with breakfast so I figured, why not? Anything with cream cheese and chocolate has got to be slammin! I made these at night and *ahem* most of them made it til breakfast. A few of them barely made it to the cooling rack..
Chocolate Chip Cream Cheese Breakfast Cookies
Ingredients:
1 can seamless crescent rolls
1 (8 oz) block cream cheese, room temperature
1/4 cup sugar
2 tsp vanilla
1/2 cup mini chocolate chips
First, you mix the cream cheese, sugar and vanilla together. Try not to taste it. I made that mistake and I would have kept eating if my sous chef wasn't looking to see what I was doing.
Next, you roll out the roll dough. This is where I had an issue. I had the regular crescents so I sat there carefully pinching the seams together. At this point, my antsy sous chef (she's 6, remember) just wanted to lick the bowl.
Once the dough is rolled out to your satisfaction, you spread the cream cheese mix across it, leaving a little bit of the edges untouched. I forgot that point, thus the big spatula swipes across each edge..
Now you sprinkle the chocolate chips on. I only had regular chocolate chips instead of the minis. This made the rolling-up part of this a little hairy. The chips kept trying to bust out of the seams!
Once you have chipped to your liking, you carefully (even more so if you have seams!) roll the dough up.
Wrap it in some cling wrap and refrigerate for 2 hours or overnight, whichever you prefer. My dough made it about 3 hours before I ripped into it. I couldn't wait overnight!
Line a cookie sheet with parchment paper and preheat the oven to 350 (if you don't have this, how do you keep your pans clean???). Slice the rolled dough into 1/4″ slices and lay them on the sheet.
Place into oven for 12-14 minutes or until the edges are browned. Transfer to a wire rack to cool. I don't have one of those so I used my Air-Bake pizza pan. I ate one after a few minutes and also had one cold the next morning.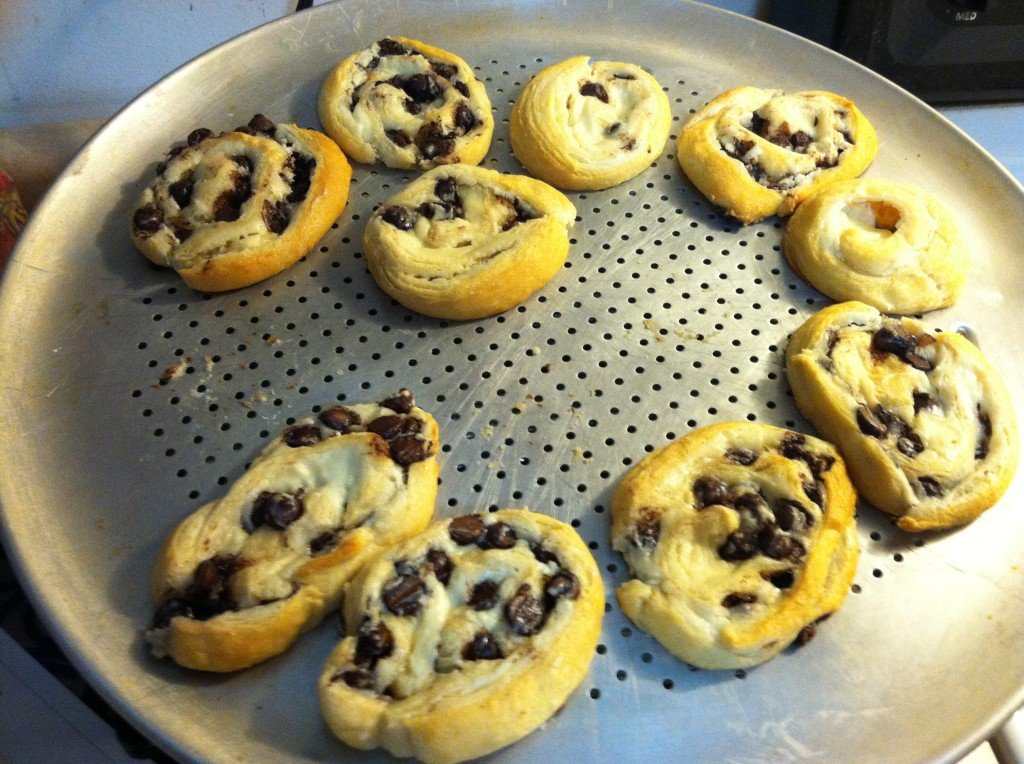 THESE ARE AMAZING!!! Mine didn't come out as pretty as Shelly's did, but the taste was still there 🙂
Thank you, Shelly, for the awesome recipe! If you want a printable version, check out the recipe post HERE. Also be sure to check out all the other delectable recipes on Shelly's site!