If you ever decide to be in New York City, go eat at Carmine's. I have been to both Italian restaurants and family-style places, but this one takes the cake! We had no problem deciding on what to order.
We started with a Caesar Salad (which I forgot to photo before everyone dug in) which was excellent! There is nothing worse than a horrible salad (okay a horrible dessert is worse!) but this one was amazing. I even convinced Mini to try a few bites.
My chocolate martinis absolutely hit the spot. They weren't overly strong and tasted so amazing, I had two! Kudos to the bartenders!
First, out came our pastas. We ordered lasagna and penne alla vodka. I didn't have the lasagna but the penne had the best vodka sauce I had ever tasted!
Right after that, the chicken parmesan came out. It was amazing as well! The chicken wasn't heavily breaded like some other places I've visited tend to do.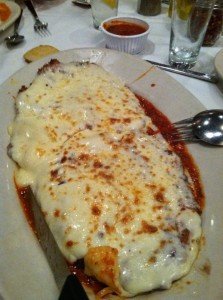 For dessert.. BRACE YOURSELVES! We ordered a little thing called "The Titanic" and it sunk us (haha see what I did there?). It was so decadent and rich. The waiter describes it as a "big banana split" but we were NOT prepared for what came to us. If you can't see by the pics, it is a slab of chocolate fudge piled with ice cream and completely covered with whipped cream then topped off with fruits and pirouettes (those chocolate wafer sticks). Here are the two side views:
The kids had their own separate menus.. You HAVE to visit this place if you are in NYC. I'm ecstatic they have off-premises catering (just found out)! If I worked in the City, I would be doing take-out from this place a few times a week!
It was definitely a place I plan on going to again next time I'm there 🙂